AF Panel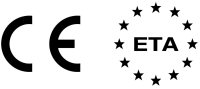 Fire protection for expansion joints
AF PANEL is a fireproof panel certified under EN 1366-1, EN 1366-3 and EN 1366-4 for the up to EI 240 protection of a wide range of wall and floor penetrations.

| | |
| --- | --- |
| Weight: | 5,30 kg /nr |
| Price: | €55,40 /nr |
Technical Features
Pipe penetrations, ventilation ducts, cable trays, fire dampers and expansion joints
are some of the certified applications of this versatile and useful product to create
a smoke and fire-resistant structure.  AF PANEL consists of a semi-rigid non-combustible panel in mineral fibre, treated on both sides with a white ablative coating. With its lightweight and semi-rigid consistency, the product can be shaped directly on site with a cutter to recreate an integral structure suitable for the application of other products for each penetration (e.g. collars or intumescent pillows). The industrially applied fireproof coating on both sides provides a ready-to-use product which complies with the test certificates, eliminating the need to paint them on site and verify the thickness consistency of the coatings.
Direct Application
Cable tray;
Cables in corrugated pipes;
Busbars;
Combustible pipes;
Multilayer pipes;
Insulated and uninsulated metal pipes;
Mixed penetrations (including fire dampers);
Duct penetrations;
Expansion joints.
Certifications
Class EI 240 (EN 1336-3) rigid floor;
Class EI 180 (EN 1336-3) rigid wall;
Class EI 120 (EN 1364-3) plasterboard wall;
Class EI 120 (EN 1366-3) self-supporting wall;
Class EI 120 (EN 1366-3) sandwich wall;
Class REI 120 (EN 1365-2) fibre false ceiling;
Class EI 120 (EN 1366-3) independent false-ceiling;l
Class EI 180 (EN 1336-4) joints on rigid wall;
Class EI 180 (EN 1336-4) joints on rigid floor.

Packaging and Storage
Cardboard boxes containing five panels. On pallets Unlimited under normal storage conditions
Specification
Supply and application of semi-rigid rock wool
AF PANEL
, treated on both sides with the ablative product
AF SEAL T1
, sized 1000 x 500 x 52 mm and with nominal density of 150 kg/m3, created for fire protection up to EI 240 of technological system penetrations in walls and floors. The panel can be cut and shaped with a "cutter" or hacksaw and applied with
AF SEAL W
fireproof sealant on the joints and perimeter parts. The system does not require additional surface coatings.
Application Method
1. measure the size and shape of the opening to be sealed;
2. apply them to the
AF PANEL
;
3. shape the panel using construction site saws or cutters, taking care
    to leave a slightly larger template than the size of the opening to be sealed;
4. spread a small amount of AF SEAL W on the template sides or directly
    on the masonry inner edge where the template will be applied;
5. apply the template and insert it in the opening by "slotting it in";
6. smooth the joints with a trowel using
AF SEAL W
sealant.
Reason to choose AF Panel
it can be shaped directly on site;
 ready-to-use product;
simple to apply;
 useful for mixed passages.
RELATED PRODUCTS
Do you have a special need? We can offer you the Solution that best suits you!
If you did not find what you were looking for and/or if you need further information, do not hesitate to call us at +39 0298879353, or fill in the form below